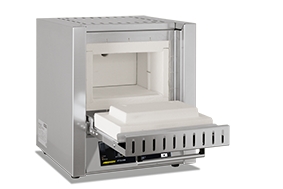 Producer of laboratory furnaces
Nabertherm is a major global producer of laboratory furnaces. We offer a large selection of standard models as well as customized solutions, and will produce a purpose-built laboratory furnace by working with your individual requirements and specifications. Nabertherm laboratory furnaces are used in universities, schools and research institutes. We strive to ensure highest quality standards and an excellent spare parts service while maintaining short delivery times.
Further information on Nabertherm laboratory furnaces.
Nabertherm products cater for a wide range of applications:
Muffle furnaces for preheating the muffle
Ashing furnaces for inorganic waste determination
Drying oven for a variety of uses
Laboratory furnaces for use in universities, laboratories and research institutes
...more Nabertherm products:
Nabertherm offers a wide range of standard kilns/furnaces and plants for many different areas of application. The modular design of our products means it is possible to find a solution in many areas to your particular problem without the necessity of costly conversion and modification. And, if none of our standard kilns or furnaces meets your requirements, then we will gladly develop a kiln, furnace or complete plant specially tailor-made to your needs.

Privacy Policy – with Matomo (Piwik)